Mouse over to see larger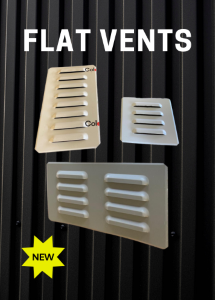 Flat Vents
Available in all Colorbond colours, Zincalume or Galvanised. Suitable for flat or predominately flat profiled walls. Comes with a woven alloy mesh insert and coloured rivets.
Information about this product can be found in our catalogue. Please click here to download.
Website information for this product is currently being updated. Please refer to our catalogue for the most up to date information about this product.
All CAMPBELL products carry IP protection in the form of Patent and/or Registered Design and/or Trade Mark.