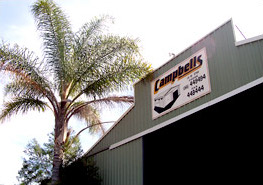 Campbell Shed Products Pty Ltd grew from the enquiring mind of Errol Campbell, a Grafton local with over thirty years' experience in the shed industry. Its beginnings were in design, manufacture and construction of pre-engineered garages, sheds, commercial and industrial buildings.
Throughout these early years, Errol set about ways to seal sheds against corrosion, vermin, weather and fire attack, and these concepts were welcomed by clients. On receiving positive feedback, he pursued the concepts to develop a line of world-first products that are a new concept in the pre-fabricated building industry.
In more recent years, Errol has explored the new market of accessories and componentry for the pre-engineered building industry. He pioneered a range of products that are boasted to add additional perfection to a shed once thought basic. From these, Campbells have now developed a full range of products. They have grown from strength to strength, and now distribute nation-wide from their Grafton factory.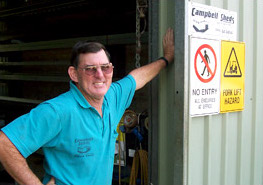 Campbell Shed Products achieved recognition and assistance of government departments, and won membership of the prestigious Australian Technology Showcase. Errol was also rewarded for his design and development of new products by winning the utility section of the Inventors Fair held in conjunction with the International Philosophy, Science and Theology Festival.
All Campbell products carry IP protection in the form of Patent, Registered Design and/or Trade Mark