Mouse over to see larger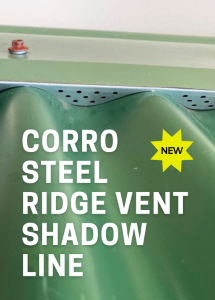 Corro Steel Ridge Vent Shadow Line
Has an inverted profile that hides under the shadow of the standard ridge cap, therefore, does not have to be colour-coordinated with the roof.
Information about this product can be found in our catalogue. Please click here to download.
Website information for this product is currently being updated. Please refer to our catalogue for the most up to date information about this product.
All CAMPBELL products carry IP protection in the form of Patent and/or Registered Design and/or Trade Mark.